ABIDJAN (ILO News) – Government ministers joined workers' and employers' organizations as well as labour and environmental experts to launch the Climate Action for Jobs initiative in Africa.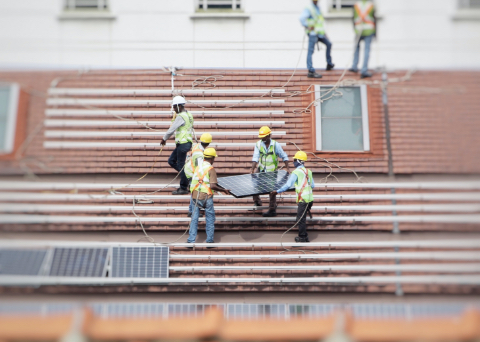 The initiative provides a roadmap to boost climate action, while ensuring that jobs and human well-being are at the centre of the transition to a carbon-neutral and climate-resilient economy.
Speaking at the virtual launch event to mark Earth Day, ILO Assistant Director-General and Regional Director for Africa Cynthia Samuel-Olonjuwon said that – though Africa generates a low share of global carbon emissions – the continent is highly vulnerable to climate change.
Despite acknowledgment of the challenges ahead and the urgency of an ecological transition, the event's tone was one of optimism. Reference was made to Africa's young and dynamic population, vast natural resources, and political and social engagement.
"Taking decisive action on climate change can create more and better jobs through sustainable agriculture, green industries, and a sustainable energy transition," Samuel-Olonjuwon stressed.
Partners highlighted the opportunities created by an ecological transition, sharing practical commitments to green their economies and 'build back better' after the COVID-19 crisis.
For example, Ghana's Minister of Employment and Labour Relations, Ignatius Baffour Awuah, outlined his country's national green jobs strategy, which will promote green enterprise development, create green jobs and prioritize decent work.
Côte d'Ivoire also shared bold plans, with Azan Joël Kouakou, Director of Strategies and Employment Programmes at the Ministry of Employment and Social Protection, announcing that his country will extend medical coverage to green entrepreneurs and informal workers.
A cornerstone of the new Climate Action for Jobs initiative is a programme focusing on the social dimension of the ecological transition. Working in partnership with France, the ILO will support just transition efforts in Côte d'Ivoire, Nigeria and Senegal, with further knowledge-sharing planned across Algeria, Ghana, Morocco and Niger.
Speaking at the virtual launch, Sharan Burrow, General Secretary of the International Trade Union Confederation, and Roberto Suárez Santos, Secretary General of the International Organisation of Employers, reaffirmed the engagement of workers' and employers' organizations for ambitious climate action that delivers decent jobs and a just transition for all. This message was reiterated by trade union, government and business leaders from Nigeria, Niger, South Africa, Zimbabwe and Senegal.
Ultimately, speakers agreed, progress towards a sustainable future will require all parties to work together. For example, Diana Acconcia, the EU Ambassador in Ghana, highlighted that EU and ILO priorities align on climate action, decent work and just transition. "Nobody can do this alone," Samuel-Olonjuwon said in her concluding remarks. "There have to be partnerships at the national and global level. When we all put our heads together, we are able to move that much further."